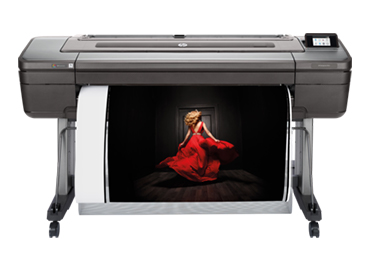 HP DesignJet Z9⁺ Printer
Experience the pinnacle of professional photo printing with the HP DesignJet Z9+ PostScript Printer series. With this cutting-edge printer, you can confidently deliver high-quality prints, impressing even the most demanding customers.
Email Quote
Call for Quote
Introducing HP DesignJet Z9+ PostScript Printer Series - Delivering Amazing Print Quality
High-Quality Prints with Confidence:

Achieve amazing results with smooth transitions and sharp details, thanks to HP Pixel Control. The new high-definition HP printheads with dual drop technology eliminate the need for light inks, ensuring superior print quality.
Expanded Gamut and Gloss Uniformity:

With RGB HP Vivid Photo Inks and the embedded spectrophotometer, enjoy an expanded gamut, bringing your images to life with vibrant colors. Upgrade your printer with HP Gloss Enhancer for superior gloss uniformity.
Fast and Simple Photo Printing
Fast Printing Without Compromises:

Print up to 2.5 times faster with 2400 nozzle-per-inch high-definition printheads, without compromising on quality. Say goodbye to delays and complete your projects with efficiency.
Efficient Workflow with Dual Roll Support:

Spend less time on media changes and adjustments using dual roll support and automatic roll switching. Keep your printing process smooth and streamlined.
Easily Design a Variety of Applications:

From posters to banners and canvas, the HP Applications Center empowers you to create stunning applications effortlessly. Explore your creativity and deliver exceptional prints for every project.
User-Friendly Features and Seamless Workflow
Seamless Integration and Remote Control:

Integrate the HP DesignJet Z9+ into your existing workflow with ease, as it is validated with the HP RIP certification program. Enjoy remote visibility and control with HP PrintOS, optimizing your print production environment.
Effortless Printing with HP Click Software:

Simplify your printing process with one-click printing using HP Click software. Not only does it save you time, but it also helps reduce media waste, making it an eco-friendly choice.
Save Post-Processing Time with Integrated Vertical Trimmer:

The HP DesignJet Z9+ is the first printer to include an integrated vertical trimmer, cutting post-processing labor time by up to 20%. Experience convenience and efficiency in your printing workflow.
The HP DesignJet Z9+ PostScript Printer series sets a new standard for professional photo printing. Deliver amazing quality prints with confidence, benefit from faster printing speeds, and enjoy a user-friendly experience with various tools and features. With seamless integration, remote control, and efficient post-processing, this printer empowers you to elevate your print production to the next level.
Printer Model: HP Designjet Z9 Postscript Photo Printer
Contact Us For A Quote
View Details PDF