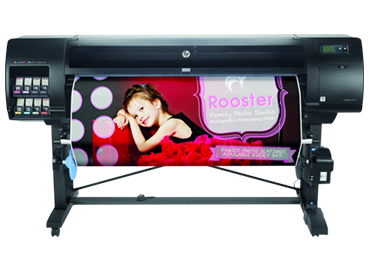 HP Designjet Z6810 Photo Production Printer
Are you looking to impress your customers with high-quality output that makes their projects stand out? The HP DesignJet Z6810 Printer is your ideal solution. From impactful photos to canvas prints, backlits, posters, maps, and line drawings, this printer delivers consistent, accurate color across prints and printers, thanks to its embedded spectrophotometer.
Email Quote
Call for Quote
Introducing the HP DesignJet Z6810 Printer: Impressive Quality, Reliability, and Productivity
Key Features:
High-Quality Expectations: The HP DesignJet Z6810 Printer is designed to meet the highest quality standards. Help your customers make a lasting impression with output that captures attention and leaves a mark. Say goodbye to rework and inconsistencies with consistent, accurate color reproduction.
Reliable and Easy Workflow: No need to change the way you work. This printer seamlessly integrates into your existing workflow. You can continue using your current RIPs and take advantage of the HP Applications Center to create content and submit jobs effortlessly. HP Click software reduces media waste, making your printing process even more efficient.
Boost Productivity: Increase your production volumes with the HP DesignJet Z6810 Printer. It can handle production peaks with fast print speeds, a 500 GB hard disk capacity, and long media rolls. The 775-ml HP ink cartridges ensure you can work without interruption, reducing the need for frequent cartridge changes.
HP Designjet Z6810 Photo Production Printer Features:
- Available in 42 inch and 60 inch models to suit your specific needs.
- Utilizes 8 HP 775-ml ink cartridges: Magenta, Yellow, Matte Black, Photo Black, Chromatic Red, Light Cyan, Light Gray, Light Magenta.
- Offers printable media sizes ranging from 11 inches up to 60 inches.
- Boasts up to 2400 x 1200 optimized dpi resolution for sharp, detailed prints.
- Built-in take-up reel ensures a smooth workflow for large projects.
- Versatile media support, including bond and coated paper, technical paper, film, photographic paper, proofing paper, backlit, self-adhesive, banner and sign, fabric, and fine art printing material.
- Equipped with a roll feed and automatic horizontal cutter for easy and precise handling.
*Compared with large-format photo inks inkjet printers under $25,000 USD for graphics applications. Based on the fastest-rated color speeds as published by manufacturers as of June, 2017. Test methods vary.
Printer Model: HP Designjet Z6810 Photo Production Printer
Contact Us For A Quote
View Details PDF