HP DesignJet Z6610 Production Printer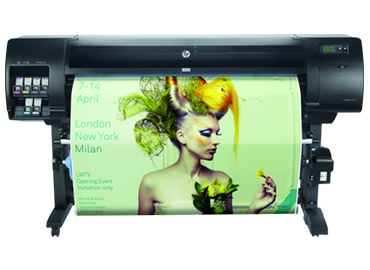 Sharp — High-quality, durable output
Achieve high impact and clear readability from line drawings to posters, with optimized printheads. Maintain high quality with optimized maintenance routines. Work without concern for damage with water-/fade-resistant prints by HP Vivid Photo Inks.
Productive — Handle production peaks
Manage high workloads with print speeds up to 212 square feet per hour on glossy and 548 square feet per hour on plain paper. Handle more jobs with 500 GB hard disk capacity. Complete job after job with long media rolls, 775-ml HP ink cartridges, and a built-in take-up reel.
Reliable — Fits your current workflow
Seamlessly integrate with the market-leading software. Improve operator efficiency with HP SmartStream job preparation and processing software. Enjoy one-click printing with HP Click printing software.
HP DesignJet Z6610 Production Printer Features:
- Utilizes 6 HP 775-ml ink cartridges : Cyan, Magenta, Yellow, Matte Black, Photo Black, Light Gray
- Printable media sizes from 11 inches up to 60 inches.
- Up to 2400 x 1200 optimized dpi Resolution
- Complete job after job with long media rolls, 775-ml HP ink cartritges, and a builtin take-up reel.
- Print on bond and coated paper, technical paper, film, photographic paper, proofing paper, backlit, self-adhesive, banner and sign, fabric, fine art printing material
- Roll feed, automatic horizontal cutter, take-up reel
*Compared with large-format photo inks inkjet printers under $25,000 USD for graphics applications. Based on the fastest-rated color speeds as published by manufacturers as of June, 2017. Test methods vary.
Printer Model: HP DesignJet Z6610 Production Printer
Starting at $11295.00
Contact Us For A Quote
View Details PDF
"Keep your companies projects on time, all the time with A&A Graphics 100% Printer Uptime Guarantee"
100% Uptime Guarantee
—Purchase any plotter from A&A Graphics and keep it under our warranty. If for any reason we are unable to repair the issue in 8 business hours we will do all your printing, copying & scanning for free until the issue is resolved to the manufacturer's specifications for performance.
The only time a printer breaks is when it is needed the most. As a project manager or business owner you can rest a little easier knowing your bids and projects will not be stalled or delayed by printer downtime. A&A Graphics employs 5 factory trained specialists offering same day support in most cases in the Greater Houston Area. HP, KIP, OCE, GRAPHTEC, XEROX all current models and legacy printers supported. We also have an extensive large wide format printer used parts inventory to assist you with any future repairs you may need.