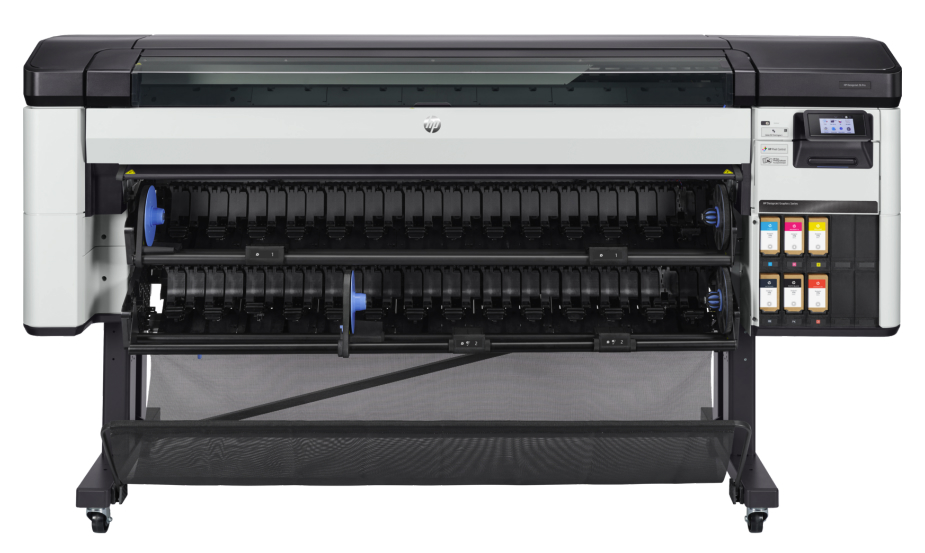 HP DesignJet Z6 Pro Printer
Experience the pinnacle of precision with the HP DesignJet Z6 Pro 64-in Printer, delivering the most accurate maps with dual roll productivity.
Email Quote
Call for Quote
Introducing HP DesignJet Z6 Pro 64-in Printer - Unrivaled Precision
Highest Precision and Fine Line Detail:

Rely on clear PDF output and see excellent transparencies and layers reproduction, powered by the Adobe PDF Print Engine. Achieve sharp contour lines and text with high-definition HP HDNA printheads, ensuring the finest details in your prints.
Smooth Gradients and Distinct Colors:

Enjoy smooth gradients and reproduce distinct shades of color with HP Pixel Control. The HP DesignJet Z6 Pro ensures impeccable color reproduction for stunning prints.
Enhanced Efficiency and Higher Speed
Enhanced Productivity with Dual Roll Option:

Save up to 40% media change time with the dual roll option, allowing you to use two media types/sizes and automatic roll switching. Experience seamless media handling for increased efficiency.
Fastest Media Handling and Production Peaks:

Be more efficient with the fastest media handling, featuring spindle-less and automatic roll feed. The HP DesignJet Z6 Pro prints 2X faster on plain paper without compromising on quality, efficiently handling production peaks.
World's Easiest Job Submission Software:

Save time and streamline your workflow with the world's easiest job submission software - HP Click. Send multiple files to print effortlessly, enhancing your productivity.
Unmatched Security and Data Protection
Best Data Protection and Secure PIN Printing:

Rely on the best data protection with encrypted communications and Access Control List. Ensure the utmost security with secure PIN printing, controlling access to the printer and confidential documents.
Secure Devices with HP JetAdvantage Security Manager:

Keep your devices secure and set security preferences at any time with HP JetAdvantage Security Manager software. Have peace of mind knowing your printer is safeguarded against potential threats.
Best Network Protection with HP Connection Inspector:

Experience the ultimate network protection with HP Connection Inspector, HP Secure Boot, and Whitelisting. Your HP DesignJet Z6 Pro is fortified against unauthorized access and data breaches.
The HP DesignJet Z6 Pro 64-in Printer offers the highest precision for maps, enhanced efficiency, and top-notch security. Benefit from smooth gradients and distinct color reproduction, increased productivity with dual roll options, and seamless media handling. With the best data protection and network security, the HP DesignJet Z6 Pro ensures your printing operations remain safe and efficient. Elevate your printing experience and achieve exceptional results with this world-class large-format printer.
Printer Model: HP DesignJet Z6 Pro Printer
Contact Us For A Quote
View Details PDF