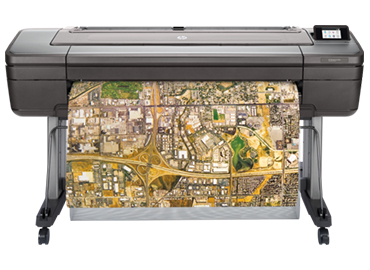 HP Designjet Z6 Printer
Welcome to the future of printing with the HP DesignJet Z6 PostScript Printer series. Enjoy high-definition prints that bring out the subtlest details, while ensuring fast and secure printing to safeguard your work and information.
Email Quote
Call for Quote
Precise - Clearly distinguish subtle details
Read details more clearly and see high-contrast color with new high-definition HP printheads. No need for light inks with HP's dual drop technology. Get smooth gradients, even for challenging color combinations, with HP Pixel Control.
Fast - Work without delays
Handle even the most complex files with powerful processing architecture and the Adobe PDF Print Engine. Cut maps to different sizes in fewer steps with the first printer including an integrated vertical trimmer. Print up to 20% faster with 2400 nozzle-per-inch, high-definition HP printheads.
Secure - Protect your work and your information
Protect printers/data from unauthorized access with HP Secure Boot, whitelisting, and encrypted hard disk. Protect documents, preserve confidentiality with authentication solutions like PIN printing, card readers. Secure your printers with HP JetAdvantage Security Manager; manage your fleet remotely with HP Web Jetadmin.
HP Designjet Z6 Postscript Photo Printer Features:
- Dual-roll printing is available on the HP Designjet Z6dr 44-in Printer and HP Designjet Z6dr 44-in PostScript Printers.
- Utilizes 6 HP 130-ml ink cartridges : Cyan, Magenta, Yellow, Matte Black, Photo Black, Chromatic Red
- Printable media sizes from 11 inches up to 44 inches.
- Up to 2400 x 1200 optimized dpi Resolution
- Two automatic roll feeds, smart roll-switching, top sheet feed, media output bin, automatic horizontal cutter and vertical trimmer (cuts all HP Z-series printer-qualified media, including most canvas)
- Print on Photographic, fine art printing material, self-adhesive, banner and sign, bond and coated, backlit materials
*Compared with large-format photo inks inkjet printers under $25,000 USD for graphics applications. Based on the fastest-rated color speeds as published by manufacturers as of June, 2017. Test methods vary. Based on internal HP testing. Up to 20% faster printing compared to the HP DesignJet Z2600 PostScript® Printer and HP DesignJet Z5600 PostScript® Printer. May vary depending on print mode and media type. Vertical trimmer and dual rolls included with the HP DesignJet Z6dr 44-in PostScript® Printer with V-Trimmer only.
Printer Model: HP Designjet Z6 Postscript Photo Printer
Contact Us For A Quote
View Details PDF