HP Designjet Z3200 Photo Printer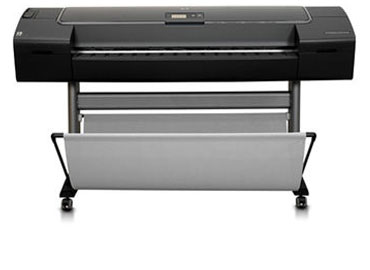 Produce rich, consistent gallery-quality color and black-and-white prints with the easy-to-use 12-ink HP Designjet Z3200 Photo Printer. Simplify workflow with HP Color Center. Generate custom ICC profiles and achieve color accuracy print after print with the embedded spectrophotometer.

HP Designjet Z3200 Photo Printer Features:
- The most advanced 12-ink printer for gallery-quality prints
- 24-in (610-mm) and 44-in (1118-mm) models
- 12 Original HP inks, including 4 Blacks and Chromatic Red
- Gloss enhancer
- Color reliability with Adobe® PostScript/PDF support
- Embedded spectrophotometer for color accuracy and consistency†

†Embedded in this HP Designjet Printer is an i1 spectrophotometer from X-Rite. Close collaboration between HP and X-Rite ensures a reliable solution that's been thoroughly tested to meet customer demands for ease, quality, and dependability.

Printer Model: HP Z3200
This model is no longer available. See the Z5200 for a comparable model.

View Details PDF
"Keep your companies projects on time, all the time with A&A Graphics 100% Printer Uptime Guarantee"
100% Uptime Guarantee
—Purchase any plotter from A&A Graphics and keep it under our warranty. If for any reason we are unable to repair the issue in 8 business hours we will do all your printing, copying & scanning for free until the issue is resolved to the manufacturer's specifications for performance.
The only time a printer breaks is when it is needed the most. As a project manager or business owner you can rest a little easier knowing your bids and projects will not be stalled or delayed by printer downtime. A&A Graphics employs 5 factory trained specialists offering same day support in most cases in the Greater Houston Area. HP, KIP, OCE, GRAPHTEC, XEROX all current models and legacy printers supported. We also have an extensive large wide format printer used parts inventory to assist you with any future repairs you may need.