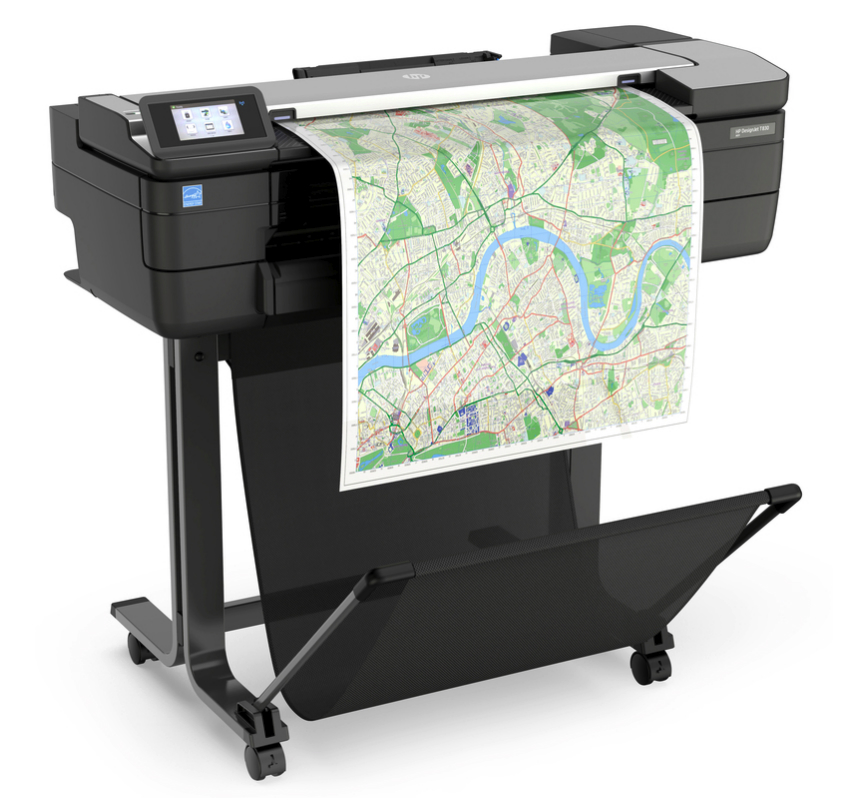 HP DesignJet T830 MFP 24 Inch
Experience seamless communication and unmatched convenience with the HP DesignJet T830 24-in Multifunction Printer. This multifunction printer offers print, scan, and copy capabilities, enabling you to communicate effectively without any learning curve.
Email Quote
Call for Quote
Introducing the HP DesignJet T830 24-in Multifunction Printer: Your Efficient Communication HubIntroducing the HP DesignJet T830 36-in Printer: Your Robust and Compact Wi-Fi Printing Solution
Key Features:
Fast, Agile, and Intuitive: The HP DesignJet T830 offers fast, agile, and intuitive print/scan/copy functions, allowing you to handle your tasks efficiently and effortlessly.
Trusted Quality and Reliability: Count on HP DesignJet quality and reliability to deliver exceptional results, ensuring your documents look professional every time.
Immediate Sharing of Meeting Results: Print documents fast and get A1/D-size prints in just 26 seconds. Share meeting results promptly, enhancing collaboration and decision-making.
Compact and Easy Installation: Enjoy easy installation in your office or construction job site with the most compact large-format multifunction printer. Save valuable space without compromising on performance.
HP Click Printing Software: Simplify your printing workflow and easily print project sets and PDF documents with HP Click printing software. Achieve outstanding efficiency with user-friendly features.
Seamless Mobile Printing: Print smoothly from your smartphone or tablet with HP Mobile Printing. Stay productive on the go and collaborate seamlessly with mobile printing convenience.
Versatile Small-Format Printing: Get HP DesignJet quality even in small-format sizes. Print half-size documents with the 50-sheet A4/A3 input tray, meeting various printing needs.
Smart Scanning Technology: Protect your originals from damage when scanning and ensure precise colors, thanks to the smart scanning technology of the HP DesignJet T830.
Reinforced Design for Job Sites: Designed for durability, the printer features a reinforced design and strong legs for easy transport and use at job sites, ensuring reliable performance wherever you go.
Environmentally Conscious: The redesigned stand of the HP DesignJet T830 reduces CO2e up to 197 tons/year by units sold, reflecting HP's commitment to sustainability.
Instant Copy and Distribution: Use the built-in scanner to copy and distribute sketches and hand-annotated drawings to peers and partners right away, streamlining communication.
Wi-Fi Direct Connectivity: Easily connect your computer, smartphone, or tablet to the printer with Wi-Fi Direct, ensuring seamless communication and sharing.
Effortless Sharing and Collaboration: Share drawings immediately by scanning and emailing from the front panel or using the HP Smart app to email contacts and post to the cloud. Enhance collaboration with ease.
With the HP DesignJet T830 24-in Multifunction Printer, you can communicate more effectively and handle various tasks effortlessly. Whether it's printing, scanning, or copying, this printer delivers exceptional performance without any learning curve. Embrace efficiency and convenience in your communication process with the HP DesignJet T830 24-in Multifunction Printer.
Printer Model: HP DesignJet T830 MFP 24 Inch
Contact Us For A Quote
View Details PDF