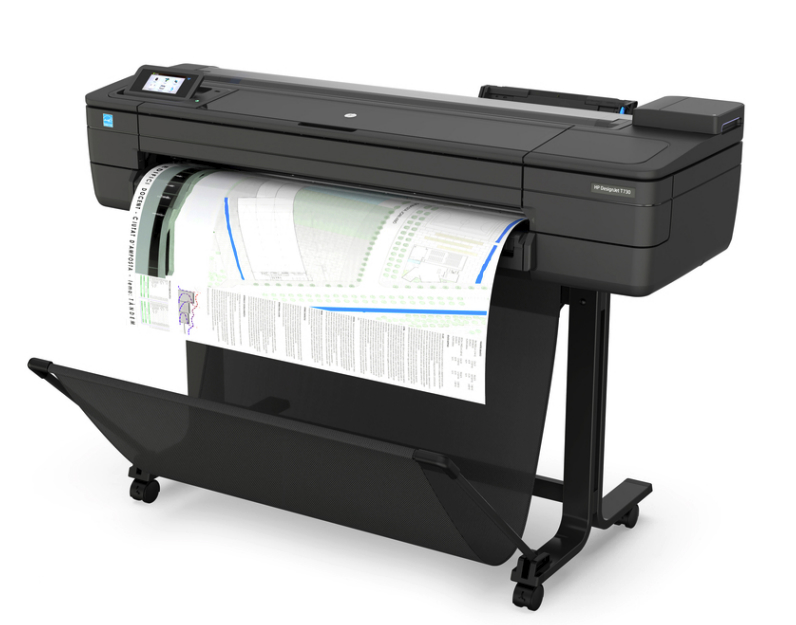 HP DesignJet T730 Printer
Experience the ultimate combination of robustness and compactness with the HP DesignJet T730 36-in Printer. This 36-inch Wi-Fi printer is designed for CAD and general-purpose applications, making it the smart investment for your business.
Email Quote
Call for Quote
Introducing the HP DesignJet T730 36-in Printer: Your Robust and Compact Wi-Fi Printing Solution
Key Features:
Robust and Professional: The HP DesignJet T730 is built to handle the demands of your business. Its compact design ensures it fits perfectly into your workspace while providing professional-grade results.
High-Speed Printing: Boost your productivity with prints delivered three times faster than previous HP models. Enjoy A1/D-size prints in just 25 seconds, allowing you to meet tight deadlines without compromise.
Efficient Ink Management: Choose from 130/300-ml HP ink cartridges to match your print volume. Large ink supplies reduce interventions, ensuring uninterrupted printing for your critical projects.
Reduce Waste: The automatic sheet feeder/tray allows you to print at half scale, cutting waste by 50%. Say goodbye to unnecessary extra work and minimize waste from wide rolls.
Seamless Wi-Fi Connectivity: Enjoy the flexibility of wireless printing with no LAN needed. Move the printer anywhere within your Wi-Fi signal's reach and experience hassle-free connectivity.
HP Click Printing Software: Easily print project sets and PDF documents with HP Click printing software. Simplify your printing workflow and enhance efficiency with intuitive features.
Environmentally Conscious: The redesigned stand of the HP DesignJet T730 reduces CO2e up to 130 tons/year by units sold. Embrace sustainability while achieving exceptional performance.
Mobile Printing Made Easy: Print from your smartphone or tablet with HP Mobile Printing. Collaborate seamlessly and work through revisions effortlessly with mobile printing convenience.
HP Smart App Integration: The HP Smart app provides additional print features when printing from your mobile device. Experience the ease of remote printing and manage your printer with ease.
Wi-Fi Direct Connectivity: The HP DesignJet T730 creates its own Wi-Fi network, ensuring easy connectivity with Wi-Fi Direct. Enjoy hassle-free wireless printing and collaboration.
The HP DesignJet T730 36-in Printer is the perfect choice for businesses seeking a powerful and versatile printing solution. With its robust performance, seamless connectivity, and environmentally conscious design, it sets new standards in large-format printing. Invest in the smart choice for your business and experience the ultimate combination of performance and convenience with the HP DesignJet T730 36-in Printer.
Printer Model: HP DesignJet T730 Printer
Contact Us For A Quote
View Details PDF