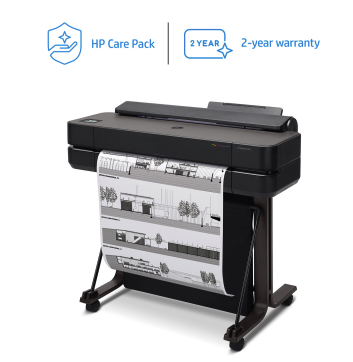 HP DesignJet T650 Plotter 24 Inch Printer
Discover the simplicity of large-format printing without tradeoffs with the HP DesignJet T650 24-in Printer. Designed to fit your office, budget, and work style, this printer offers extreme simplicity and high-quality results, making it the perfect solution for all your printing needs.
Email Quote
Call for Quote
Introducing the HP DesignJet T650 24-in Printer: The World's Easiest Large-Format Plotter with Uncompromising Affordability
Key Features:
Extreme Simplicity: Experience unparalleled ease with the HP DesignJet T650. Print multi-size A3/B and A1/D projects automatically, eliminating the need for manual media source switching. Say goodbye to complex job submissions with HP Click software, enabling you to send multiple files in one click.
Print with Confidence: Expect the results you desire with the HP DesignJet T650. The intuitive driver and true print preview ensure that every print meets your expectations, delivering consistent and accurate output.
Space-Saving Design: The HP DesignJet T650 boasts the world's smallest large-format plotters, designed to fit perfectly in your office space, complete with a built-in stand for added convenience.
Cost-Efficient and Sustainable: Save up to 95% on ink for routine maintenance compared to competitors, and enjoy up to 100 extra A1/D pages per month. Embrace a more sustainable approach with up to 30% recycled plastic, reducing CO2e up to 7.3 tons/year.
High-Speed Printing: No more waiting by the printer. The HP DesignJet T650 delivers high-speed printing as fast as 26 seconds per A1/D plot, ensuring you meet tight deadlines and increase productivity.
Seamless Remote Printing and Management: Print your jobs and manage your plotter from anywhere, anytime, using the HP Smart app. Experience the convenience of remote printing and monitoring, making your workflow more efficient.
High-Quality Results: Enjoy superior results with HP Bright Office Inks, offering up to 31% more line accuracy and up to 65% more gamut. Your prints will stand out with vibrant colors and precision.
The HP DesignJet T650 24-in Printer redefines large-format printing with its simplicity, affordability, and exceptional performance. Say goodbye to complexities and embrace the ease of large-format printing with the HP DesignJet T650 24-in Printer.
Printer Model: HP DesignJet T650 Plotter 24 Inch Printer
Contact Us For A Quote
View Details PDF