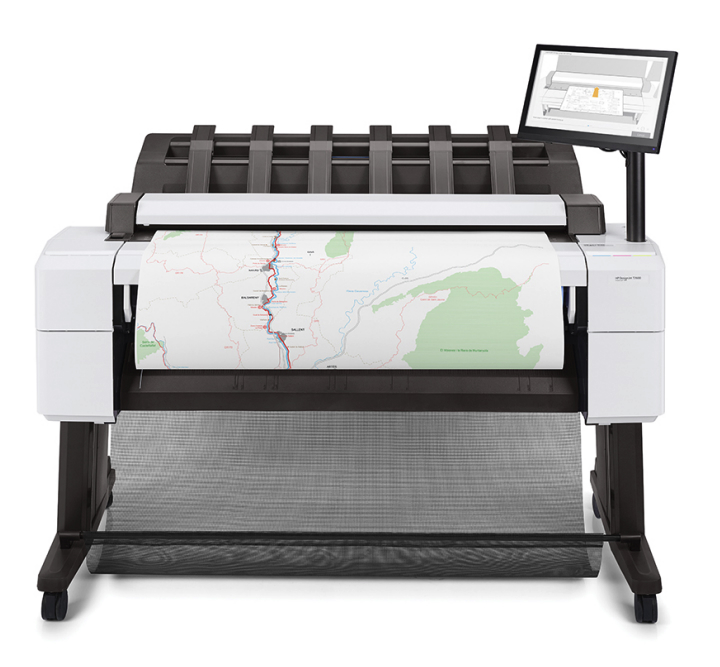 HP DesignJet T2600 Multifunction Printer
The HP DesignJet T2600 Multifunction Printer Series is engineered for collaboration, transforming workgroups into highly efficient teams. With a seamless experience and world-class security, this printer series empowers your workforce to turn design into delivery effortlessly.
Email Quote
Call for Quote
HP DesignJet T2600 Multifunction Printer Series: Unlocking Collaborative Efficiency and Unleashing Design Performance
Key Features:
Radically Simple Experience: Enjoy a smart 15.6-inch interface and the easiest PDF printing with HP Click. Effortlessly navigate through functions, making printing a breeze.
Collaborative Workstyle: Engage in seamless collaboration with teams, providing quick access to shared folders for convenient printing and scanning.
Cloud Printing and Mobile Convenience: Empower your workforce to print and share jobs from the cloud with ease, using your mobile device and the HP Smart app.
Compact Footprint and Quiet Operation: The HP DesignJet T2600 fits perfectly in your workplace with the most compact footprint and operates quietly, reducing noise by up to 87%.
Versatile Design Showcase: From precise line drafts to boldly colored 3D renders, achieve design versatility with HP Bright Office Inks, presenting strikingly vivid results.
Unmatched Printing Accuracy: The unique Adobe PDF Print Engine ensures the highest accuracy and displays the finest details, making your prints truly remarkable.
Unrivaled Speed and Efficiency: Meet deadlines with the fastest speed of up to 180 D/hr, automatic print stacking, and dual rolls, streamlining your printing process.
Automated Scanning and Quicksets: Easily digitize your projects with automated scanning, user-centric quicksets, and post-editing capabilities, saving valuable time.
Uncompromised Security: Count on the world's most secure large-format printer with features like HP Secure Boot and whitelisting, ensuring your sensitive documents are safeguarded.
Secure User Authentication: Control access to the printer and protect confidential documents with secure user authentication, giving you peace of mind.
Fleet Security Management: Manage your fleet's security effortlessly with HP JetAdvantage Security Manager, ensuring continuous protection.
With the HP DesignJet T2600 Multifunction Printer Series, collaboration becomes a seamless process, unlocking the full potential of your workgroups. Deliver outstanding results with speed, precision, and security that set new industry standards. Elevate your printing experience with HP's innovative technology, designed to streamline your workflow and boost productivity. Invest in the future of efficient and secure large-format printing with the HP DesignJet T2600 Multifunction Printer Series.
Printer Model: HP DesignJet T2600 Multifunction Printer
Contact Us For A Quote
View Details PDF