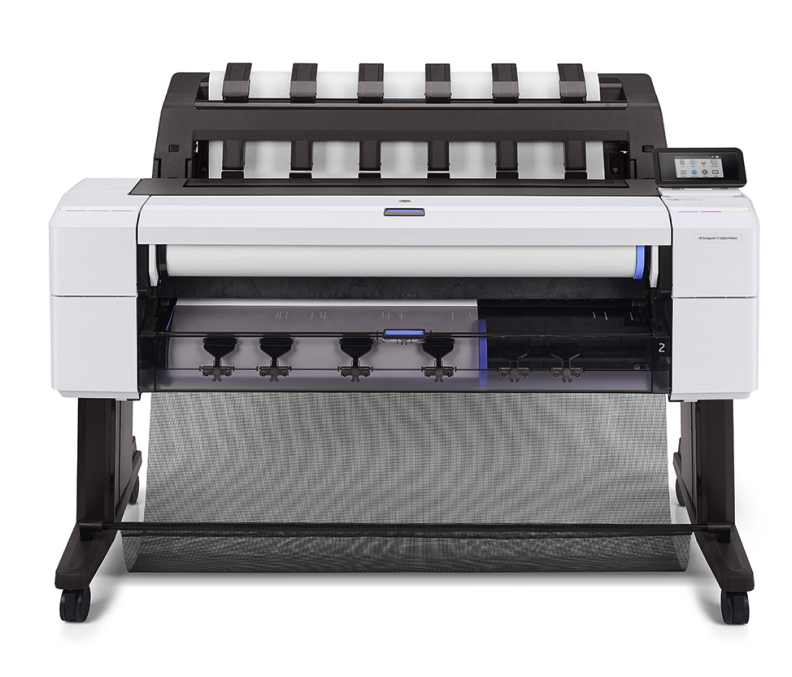 HP DesignJet T1600 Printer
Designed to move projects forward with exceptional precision and speed, the HP DesignJet T1600 Printer Series is the epitome of reliability and innovation. With a commitment to simplicity and high-end performance, this printer series empowers you to turn your design concepts into impeccable deliverables, making it the ideal choice for professionals who demand nothing less than perfection.
Email Quote
Call for Quote
Introducing the HP DesignJet T1600 Printer Series - Your Gateway to Extraordinary Performance and Unmatched Security!
Unleash the Power of Simplicity:
Say goodbye to cumbersome printing processes with the smart workstyle of the HP DesignJet T1600 Printer Series. Thanks to the user-friendly HP Click software, PDF printing becomes a breeze, streamlining your workflow and saving you valuable time.
Mobile Printing Made Easy:
Empower your workforce to print and share jobs effortlessly from the cloud using their mobile devices and the intuitive HP Smart app. Embrace the freedom of printing on-the-go, enabling you to meet deadlines and collaborate seamlessly, no matter where you are.
Quiet Operations, Compact Footprint:
Designed to fit perfectly into any workplace, the HP DesignJet T1600 boasts the most compact footprint in its class. Moreover, it operates with up to 87% less noise, ensuring a peaceful and productive environment for you and your team.
Versatility Redefined:
From precise line drafts to vividly colored 3D renders, experience unparalleled design versatility with HP Bright Office Inks. Witness the highest level of accuracy and finest details in your prints, courtesy of the unique Adobe PDF Print Engine, setting a new standard for professional printing.
Unmatched Speed and Efficiency:
Time is of the essence, and the HP DesignJet T1600 Printer Series is here to help you meet tight deadlines. With blazing-fast printing speeds of up to 180 D/hr and the option for dual rolls, you can now accomplish more in less time.
Seamless Productivity with Automatic Print Stacking:
Bid farewell to unproductive tasks. Integrated automatic print stacking allows you to focus on what truly matters, with the ability to stack up to 100 pages without any hassle.
Unrivaled Security Features:
Protect your valuable data with the world's most secure large-format printer. The HP DesignJet T1600 comes equipped with HP Secure Boot and whitelisting, ensuring your network is safeguarded against potential threats. Additionally, secure user authentication enables you to control access to the printer and its confidential documents, providing you with peace of mind.
Total Fleet Security with HP JetAdvantage Security Manager:
Rest easy knowing that your entire fleet is protected at all times. With HP JetAdvantage Security Manager, you can manage and maintain the security settings of multiple devices from a centralized platform.
The HP DesignJet T1600 Printer Series is a cutting-edge solution that brings together outstanding performance, simplicity, security, and versatility. Experience the future of large-format printing and take your projects to new heights with this extraordinary printer series. Whether you're an architect, engineer, or design professional, the HP DesignJet T1600 is your ultimate partner in innovation and productivity.
Printer Model: HP DesignJet T1600 Printer
Contact Us For A Quote
View Details PDF