HP Designjet T1500 ePrinter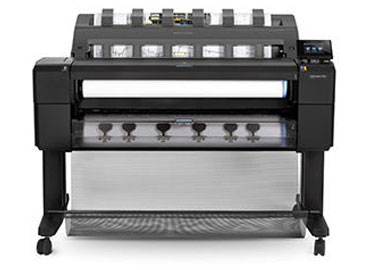 The web-connected, two-roll HP Designjet T1500 printer works as hard and as fast as you do, so you can easily juggle multiple projects. True print previews let you see what you're getting before you print. It is the ideal commercial printer for the most demanding workloads.

HP Designjet T1500 ePrinter Features:
- Newly designed, two-roll, web-connected 36-inch (914-mm) ePrinter
- Web connectivity with HP Designjet ePrint & Share*
- Integrated output stacking tray
- Two-roll configuration with smart switching
- Prints up to E/A0-size
- D/A1-size prints in 21 seconds
- A 320 GB hard drive with parallel processing power

* Requires an HP Designjet ePrint & Share account, Internet connection to the printer, and connected Internet-capable device. When using the HP Designjet ePrint & Share mobile app, a compatible Apple® iOS or Android™ device and Internet connection are required. Data or connection charges may apply. Print times may vary. 2 GB of temporary storage per account.

Printer Model: HP T1500
This model is no longer available. See the T1530 for a comparable model.

View Details PDF
"Keep your companies projects on time, all the time with A&A Graphics 100% Printer Uptime Guarantee"
100% Uptime Guarantee
—Purchase any plotter from A&A Graphics and keep it under our warranty. If for any reason we are unable to repair the issue in 8 business hours we will do all your printing, copying & scanning for free until the issue is resolved to the manufacturer's specifications for performance.
The only time a printer breaks is when it is needed the most. As a project manager or business owner you can rest a little easier knowing your bids and projects will not be stalled or delayed by printer downtime. A&A Graphics employs 5 factory trained specialists offering same day support in most cases in the Greater Houston Area. HP, KIP, OCE, GRAPHTEC, XEROX all current models and legacy printers supported. We also have an extensive large wide format printer used parts inventory to assist you with any future repairs you may need.