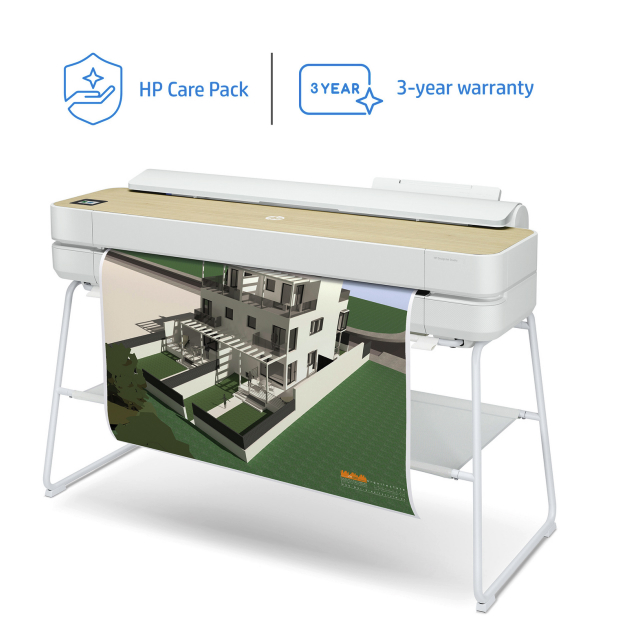 HP DesignJet Studio Wood 36 Inch Printer
Experience the perfect blend of design and performance with the HP DesignJet Studio Wood 36-in Printer, the world's easiest large-format plotter. Crafted to fit seamlessly into your lifestyle and workstyle, this printer is the ideal choice for those seeking creativity and productivity in one device.
Email Quote
Call for Quote
Introducing the HP DesignJet Studio Wood 36-in Printer: Where Design Meets Performance
Key Features:
Design that Performs: Stand out with technology that delivers exceptional results. Effortlessly set up your plotter using your smartphone for a smooth and intuitive experience.
First Net Carbon Neutral HP DesignJet: The HP DesignJet Studio Wood is the first net carbon neutral HP DesignJet plotter, demonstrating our commitment to sustainability. Reduce your environmental impact while achieving outstanding performance.
Extreme Simplicity: Embrace the ease of large-format printing with the HP DesignJet Studio Wood. Print multi-size A3/B and A0/E projects automatically, eliminating the need for manual media source switching.
Save Time with HP Click: Simplify your workflow with the world's easiest job submission—HP Click. Send multiple files in just one click, streamlining your printing process and saving valuable time.
Print with Confidence: Enjoy peace of mind knowing that the HP DesignJet Studio Wood delivers the results you expect. The intuitive driver and true print preview ensure consistent and accurate output every time.
High-Speed Printing: Avoid waiting by the printer with high-speed printing as fast as 25 seconds per A1/D plot. Increase your productivity and meet tight deadlines with ease.
HP Smart App Integration: Print your jobs and manage your plotter from virtually anywhere, anytime, using the HP Smart app. Experience the convenience of remote printing and monitoring for enhanced productivity.
High-Quality Results: HP Bright Office Inks bring your prints to life, offering up to 31% more line accuracy and up to 65% more gamut. Expect vibrant colors and precise details that make your prints stand out.
The HP DesignJet Studio Wood 36-in Printer redefines large-format printing with its innovative design, exceptional performance, and commitment to sustainability. Embrace design and performance in one powerful device and elevate your printing experience with the HP DesignJet Studio Wood 36-in Printer.
Printer Model: HP DesignJet Studio Wood 36 Inch Printer
Contact Us For A Quote
View Details PDF