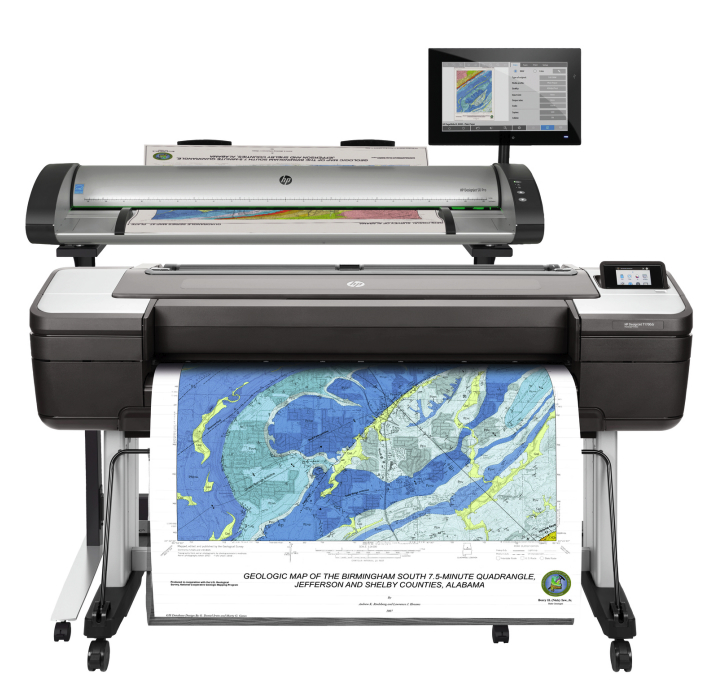 HP DesignJet SD Pro 2 MFP
Experience unmatched productivity with the HP DesignJet SD Pro 2 44-in MFP, a highly efficient multifunction printer that excels in reproducing detailed documents with incredible speed and precision. This versatile MFP is designed to streamline your workflows, delivering exceptional results that elevate your printing experience to a whole new level.
Email Quote
Call for Quote
Introducing the HP DesignJet SD Pro 2 44-in MFP - Your Productivity Powerhouse for Fast and Detailed Document Reproduction!
Detailed Document Reproduction with CIS Technology:

Prepare to be impressed by the HP DesignJet SD Pro 2's CIS (Contact Image Sensor) technology, which ensures highly detailed document reproduction. Scan and copy everyday documents and maps at high speeds without fringing, thanks to the advanced CIS technology. With the dual-illuminating system, unwanted shadows and backgrounds are eliminated, allowing your documents to stand out with clarity and sharpness.
Fast Scanning and Copying:

The SD scanner is optimized for speed, allowing you to scan at up to 9 inches per second in color and an impressive 18 inches per second in grayscale. The result? Accelerated workflows and enhanced productivity, enabling you to focus on what matters most.
Reliable Dual-Roll PostScript® Printer:

Equipped with a reliable dual-roll 44-inch PostScript® printer, the HP DesignJet SD Pro 2 delivers seamless printing on different paper types and sizes. The smart switching feature saves valuable time, and you can print large-format color and black-and-white scans and copies with ease.
Effortless Workflow Management:

Take advantage of the intuitive 15.6-inch touchscreen all-in-one PC to preview and enhance images before printing or sharing. Save your scans in various formats like PDF, TIFF, JPEG, or DWF, and utilize the batch scanning feature to optimize your productivity. Share images effortlessly by scanning to email, USB, network, or print with the HP DesignJet T1700dr 44-in PostScript® Printer.
Speed, Power, and Reliability:

With powerful processing architecture, 128 GB memory, and a 500 GB HDD, the HP DesignJet SD Pro 2 handles complex files with ease, delivering a rapid print speed of 116 A1/D pages per hour. Rely on the Adobe PDF drivers to free up your computer immediately after sending files to print, even for the most complex documents.


Secure Your Data and Printing:

At HP, we prioritize your security. Protect your printers and data from unauthorized access with HP Secure Boot, whitelisting, and an encrypted hard disk. Enjoy peace of mind knowing your sensitive information is safe and secure.
The HP DesignJet SD Pro 2 44-in MFP is the epitome of productivity and efficiency, designed to meet the demands of fast-paced environments that require detailed document reproduction. With its CIS technology, dual-roll PostScript® printer, and powerful processing capabilities, this MFP delivers exceptional results while ensuring your data remains secure. Unlock the potential of your printing workflows with the HP DesignJet SD Pro 2 44-in MFP and experience a new level of productivity and precision today.
Printer Model: HP DesignJet SD Pro 2 MFP
Contact Us For A Quote
View Details PDF