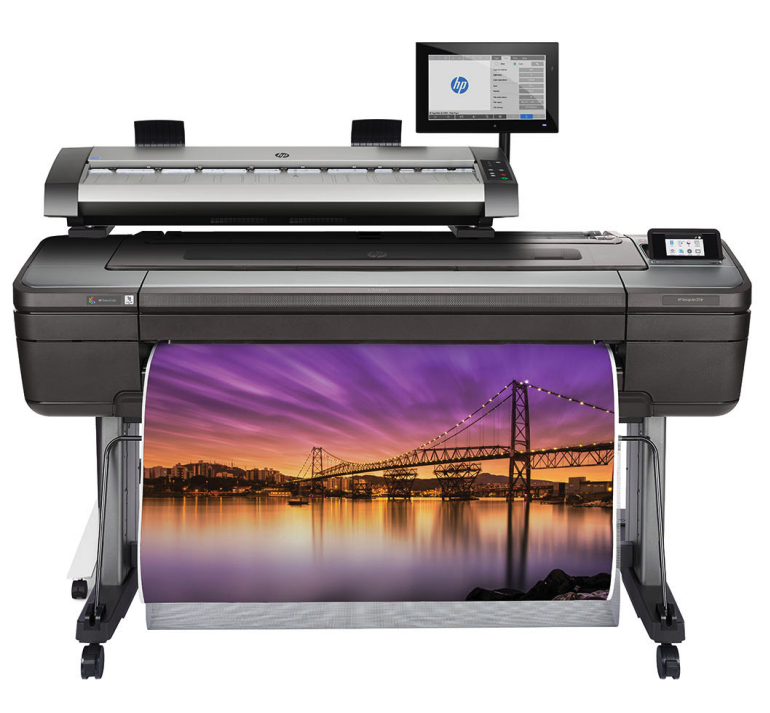 HP DesignJet HD Pro 2 MFP
Experience precision like never before with the HP DesignJet HD Pro 2 44-in MFP, a cutting-edge multifunction printer that excels in reproducing excellent graphics for both technical and graphics-related tasks. With its innovative CCD technology, this MFP delivers outstanding results, ensuring your work stands out with breathtaking accuracy and detail.
Email Quote
Call for Quote
Introducing the HP DesignJet HD Pro 2 44-in MFP - Your High-Definition Graphics Solution for Fast and Secure Technical and Graphics Applications!
Unleash Precision with CCD Technology:

When it comes to color reproduction, nothing compares to the CCD technology of the HP DesignJet HD Pro 2. Capture every hue and shade with remarkable accuracy, enabling high-quality color scanning and copying. The advanced five-camera system ensures that even the most complex images are handled efficiently, leaving no detail overlooked.
Fast, Efficient, and Streamlined Workflows:

Say goodbye to time-consuming scanning processes. The HD scanner of the HP DesignJet HD Pro 2 is designed to streamline your workflows, delivering scans at a blazing-fast rate of up to 13 inches per second in both color and monochrome. Scan maps, orthophotos, technical drawings, and more with ease, even if they are old or damaged - thanks to the CCD technology that guarantees outstanding results.
Versatility at Its Best:

Create large-format color and black-and-white scans up to 42 inches wide on thick, rigid media. Whether it's architectural plans, artistic designs, or technical blueprints, this MFP can handle it all. Save your scans in various formats like PDF, TIFF, JPEG, or DWF, and utilize the batch scanning feature to accelerate your productivity. Create multipage PDFs effortlessly and scan directly to email, USB, network, or print with the HP DesignJet Z6dr 44-in PostScript® Printer with VTrimmer.
Security You Can Rely On:

We understand the importance of protecting your work and data. That's why the HP DesignJet HD Pro 2 comes equipped with HP Secure Boot, whitelisting, and a 500 GB encrypted hard disk, ensuring unauthorized access is thwarted. Preserve document confidentiality with authentication solutions like PIN printing and card readers, guaranteeing only authorized personnel have access.
Manage Your Fleet with Ease:

Take advantage of the HP JetAdvantage Security Manager to secure your printer and manage your fleet remotely using HP Web Jetadmin. Experience reliable color with HP Professional PANTONE® color emulation and embedded Adobe® PostScript® and Adobe® PDF Print Engine, ensuring consistent and vibrant results with every print.
The HP DesignJet HD Pro 2 44-in MFP is the ultimate solution for high-definition graphics, delivering exceptional performance, efficiency, and security for technical and graphics applications. With its CCD technology, fast scanning capabilities, and reliable color reproduction, this MFP takes your work to new heights. Embrace the power of precision, speed, and security with the HP DesignJet HD Pro 2 44-in MFP and elevate your printing experience to unmatched levels of excellence.
Printer Model: HP DesignJet HD Pro 2 MFP
Contact Us For A Quote
View Details PDF