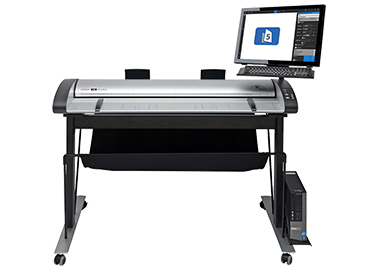 Contex IQ Quattro Large Format Scanner
IQ Quattro is the 4th generation of CIS scanners from Contex. It incorporates the latest technology to match the customers' requirements for ever higher quality images, faster scan speeds and unrivalled ease of use.
Email Quote
Call for Quote
The scanner captures every detail because of its advanced 48-bit CIS technology passing the best 24-bits to the file at up to 1200 dpi optical resolution. IQ Quattro is available in 24", 36" and 44" scan widths and three different models up to a maximum scan speed of 14 ips.

IQ Quattro scanners are ideal for project groups and professionals who demand a high-quality scanner with excellent scan performance. It could be a copy shop or people working in the repro market. The IQ Quattro series is the product for you if you have a midsize budget and you need to scan within a tight timetable.


- Fast, crisp and sharp scans of regular and oversized documents
- Fit for multi-site network
- Scan speed up to 14 in / sec in colour with Sigma and CFR
- CleanScan - provides leading image quality
- Gigabit Network
- Magnetic document guides and return guides are included for easy document handling
- Using only 0.5W in standby
- Recovery from standby in just 1 second by simply loading the document
Printer Model: Contex IQ Quattro
Contact Us For Pricing
View Details PDF
"Keep your companies projects on time, all the time with A&A Graphics 100% Printer Uptime Guarantee"
100% Uptime Guarantee
—Purchase any plotter from A&A Graphics and keep it under our warranty. If for any reason we are unable to repair the issue in 8 business hours we will do all your printing, copying & scanning for free until the issue is resolved to the manufacturer's specifications for performance.
The only time a printer breaks is when it is needed the most. As a project manager or business owner you can rest a little easier knowing your bids and projects will not be stalled or delayed by printer downtime. A&A Graphics employs 5 factory trained specialists offering same day support in most cases in the Greater Houston Area. HP, KIP, OCE, GRAPHTEC, XEROX all current models and legacy printers supported. We also have an extensive large wide format printer used parts inventory to assist you with any future repairs you may need.