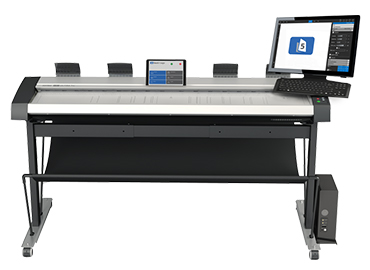 Contex HD Ultra X 6000 Large Format Scanner
HD Ultra X is the fastest scanner we've ever made. With a top speed of 17.8 ips, you can increase your workflow tempo significantly. You can also switch between three different speed levels directly on the scanner's intuitive touch panel. If speed doesn't impress you, look at the width.
Email Quote
Call for Quote
This is the world's first 60-inch CCD scanner. The size-flexibility, our Nextimage software and the unprecedented scan width gives you the flexibility to be smart and create a more efficient workflow.

With HD Ultra X we have tried to reduce the total cost of ownership because we know it matters to you. We´ve used optimized LED lights, so you don't have to think about replacing the lamps. Nor do you have to worry about maintenance to the same extent as other scanners. Best of all we´ve made the glass super-resistant to scratches and created a paper handling design that will prolong the life of your consumables.
This all adds up to the most efficient and flexible large format scanner on the market.


- Scan at up to 17.8 ips in 200 dpi RGB Colour
- 60-inch width for those really wide originals
- Custom made Fujifilm lenses ensuring high-quality scans
- An instant-ON feature which saves time and reduces your electricity bill
- Automatic width-detection - no need for selecting sizes
- Optimised thickness adjustment controller (OTAC) allows almost any original to be scanner
- 3-level speed adjustment to match your workflow
- Save your scans directly to a memory stick using the high-speed USB 3.0 interface
- Scan up to 1054 scans per hour
- 1 GB extreme buffer allows you to feed the scanner as fast as you can
- New, free touchless glass system reduces maintenance and downtime
- Copy your originals directly to the most popular large format printers using integrated printer drivers
- Scan papers, Mylar, polyester, canvas, card, water colours, fabric and so on, with a maximum focus-ability up to 7 mm (0.28 inches)
Printer Model: Contex HD Ultra X 6000
Contact Us For Pricing
View Details PDF
"Keep your companies projects on time, all the time with A&A Graphics 100% Printer Uptime Guarantee"
100% Uptime Guarantee
—Purchase any plotter from A&A Graphics and keep it under our warranty. If for any reason we are unable to repair the issue in 8 business hours we will do all your printing, copying & scanning for free until the issue is resolved to the manufacturer's specifications for performance.
The only time a printer breaks is when it is needed the most. As a project manager or business owner you can rest a little easier knowing your bids and projects will not be stalled or delayed by printer downtime. A&A Graphics employs 5 factory trained specialists offering same day support in most cases in the Greater Houston Area. HP, KIP, OCE, GRAPHTEC, XEROX all current models and legacy printers supported. We also have an extensive large wide format printer used parts inventory to assist you with any future repairs you may need.